What do you do when your best friend (AL) wants his 1994 2dr Cutlass Supreme to go faster (besides decking/porting the heads and putting ported 3400 upper and lower intake on the 3100) and you have suddenly acquired a 90 Olds Toronado Trofeo (for free)? I'll tell you:
You fire up your plasma cutter remove the engine/tranz/subframe and front strut buckets from the Trofeo then you proceed to remove the harness and ECM/BCM etc. from it also (LOTS of "useless" gismo's on the Trofeos)
Then you take the Cutlass gut it and tube cage the back half of the car while removing everything (not required) with PLASMA cutter (one of my best investments).
To make it short, weld in the front strut buckets from the Trofeo in the (old) rear strut position and build outriggers from the cage to bolt the front Trofeo subframe into the rear of the cutlass.
Bolt in the 3.8L v6/Tranz into the subframe and lower car back onto the subframe load in the 15 Gal fuel cell and Aeromotive pump and an-6 and 8 lines (so he can drive it while I reduce the Trofeo's harness to the essentials and make a VATS/PassKey simulator for the ECM)
Find out that the (now) much larger rear brakes will lock em up and install Adj. proportioning valve!
After I finished the harness (Al is horrible at electronics) I eliminated 53 lbs of a 65lb harness and made a signal generator (30Hz ground pulsed) to simulate the OEM VATS signal so that engine will run without killing injector pulse--Anti theft. We installed the rear battery (more room up front for ram air) and ran the main power/ground and got to listen to the sweetest sounds!
TWO V6's with open exhaust!
We have finished the dual shifters and the rear throttle cable/axleshafts etc. and put a Flomaster on the front engines ex. (fits great where that d**n Cat once was!) and then we went for a ride!
Where the front used to just unload and spin the tires now it does it but the rear squats and GOES! What a difference!
We are planning to go to Byron IL dragaway when I get back to IL from helping my Grand parents move from in CA to TX.
But Al has to finish the new console and door panels interior stuff we had finished the rear (removable) firewall but he is doing the finishing touches while I am away. He is making it look like a GIANT Subwoofer box complete with fake speaker grills! This will (hopefully) make the tech inspector not notice the rear engine and think she is all STOCK! I can't wait to get back to working on her!
She will always be a work in progress and I have to post my pictures (have to have him Email me the pics first out here!) so that you can see it is truly a homebuilt 94 442 (400(total) hp-4 wheel drive-2(twin) engines)
Future mods include a T04 turbo for the 3.8L (and maybe Nitrous) to help push her off the line, and a DIY EFI MegaSquirt v2.2 ECM to control it at that point (costs the same and is much more tunable than a JET chip)(uses Assembler and even has shareware to use a Windows based fuel map adjuster!)
That first ride with both engines had us grinning ear-to-ear more than enough to make us want to do it again with maybe a twin engined Pontiac GTP!
Here are some pics this one is Al in his cutlass (16.51 at 83mph) and me in my low budget 74 Nova hatchback (13.52 at 103mph). This is our baseline testing of the cutlass before we really started hacking her up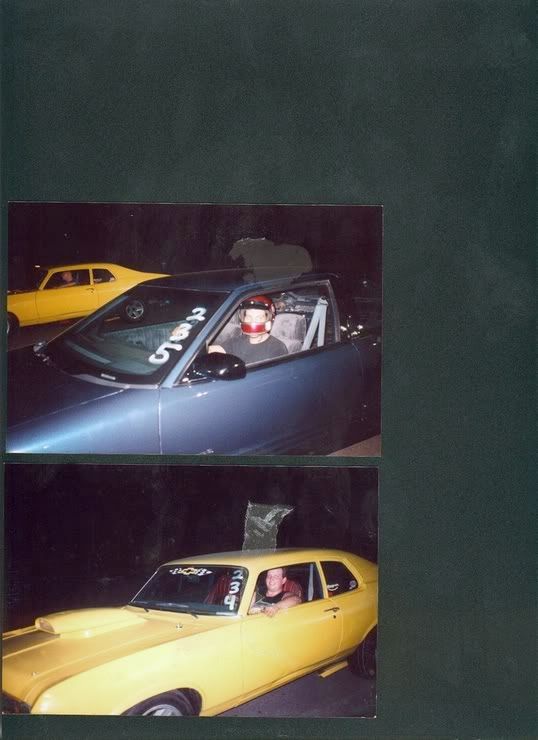 Definitely behind the seats! This was after we set up the fuel system but before the wiring of the rear engine. He wanted it drivable for a getaway car after his wedding to a true gearhead chic-Amanda. She didn't even get pissed when we had used the dishwasher to clean engine parts on the 3.1L and 3.8L- yep she still married him even after we tracked ATF all over the driveway
http://img.photobucket.com/albums/v452/ ... eseat2.jpg
And of course the trunk view, Now the rear engine compartment including the Aeromotive pump. In the upper right (I hope you can make it out) is one of the caged chassis outriggers that bolts to the stock front Trofeo subframe. The Rear engines Exhaust will be run to the Left rear and we will be running the Front's to the right rear. All we have to do is throw the Catalytic converter on and take it to the test center to have the Emissions tested (with the rear engine off)
I talked with him last night and he said his mpg hasn't went down but 2mpg to 20mpg with the rear engine off. He has set up an ATF pump to circulate trans fluid (rear trans in N eng off) while he drives. Until he gets another Flowmaster for the rear Ex. he doesn't dare start it on the street unless there are NO FUZZ around. Last week he raced my friend Kenny in his 350sbc 84 Cutlass and stayed neck and neck the whole way to 90mph. Like I said, I can't wait to get back to IL to help finish her up.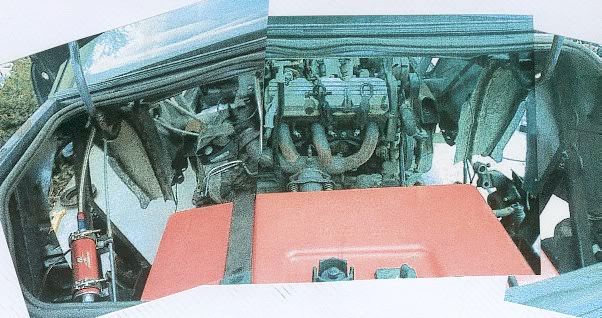 NEW INFO Al just picked up a set of factory roller rocker heads for his 94 442 3.1L front engine!
He got them from my old shop off a 96 3.1L with a rod knock that they were doing an engine swap on
FREEBIE (+ time to remove=priceless) so now he is gonna do the ports etc and get them decked like his non Roller rocker heads. It's probably worth it (factory does rate the later engines 10hp higher) just for the lower frictional losses.
But I still reminded him that he was actually SUPPOSED to be looking for another 3.8L/4t60E for the front.
He said he found a Caddy with the 4.9L v8 and 4t65e trans for less than a grand (wrecked)
I'd have to take some measurements but I do believe that the Deville chassis was wider in front so I don't think it would work out (track width is wider?)
Besides we want the monster motor in back!
I still got to keep him focused on finding a turbo for the rear 3.8L (al la Buick GNX)
Believe me I want to be done with this move so that I can get back to finishing the 442. I really want to try and clean it up smooth off some of the rough edges and maybe get it to the Mondello Olds Nationals and show it off. Last year they held a meet at the Byron drag strip (SW of Rockford IL) but Joe Mondello couldn't make it that year, but I hope he does the next time they swing by the Chicagoland area.
This is back when we first started the cage/chassis work
yup he was still driving it at the time with the factory tank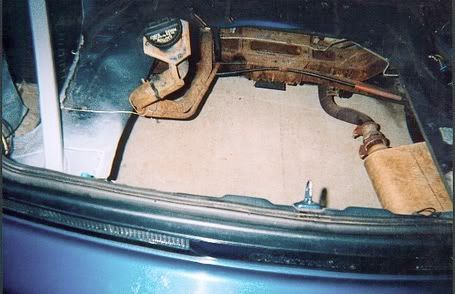 Here is the rear view right after we put the Trofeo's subframe and strut buckets in after ditching the original rear suspension-yup he was still driving it- the tank is on top of the subframe with mechanics wire holding it in place!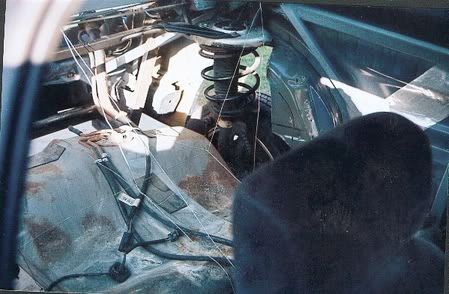 The 3800 and Tranz after all of our porting mods/replacing of all the gaskets-ready to throw in the cutlass
http://img.photobucket.com/albums/v452/ ... lation.jpg
The cutlass (soon to be a 442) as we get ready to drop the subframe to put the engine/tranz on it and bolt it back into the 442. You can see right through the wheel wells at this point-yup we did everything in that driveway (at the time: his wife to be's/soon to be father in laws)
notice the oil/crud all over the driveway!
In the background is his (now) mother in law's 96 olds 88 with a 3800 series II that we have been trying to convince that she would get better gas mileage if we "took" her 3.8l and put the 442's 3.1L in her car-so we can have two 3800's!!! Hasn't worked---YET!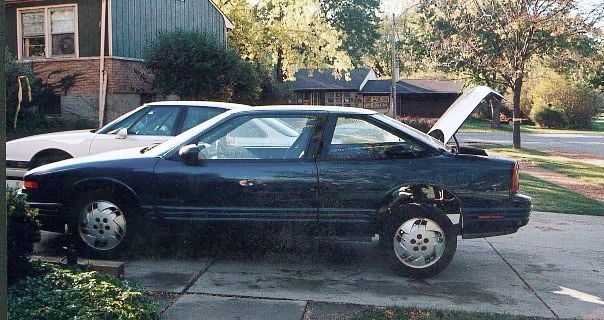 This Pic sucks but you can see the Trofeo's Front brakes and the brand new struts (Trofeo) soon after we finished installing the engine/putting it back together.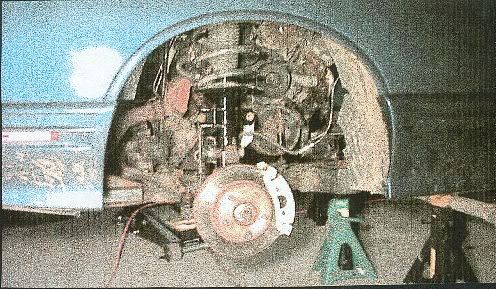 I am trying to get him to send me or post new pics-he needs to be a member! But he isn't computer friendly!
Maybe I can blackmail him about the Bachelor party to get him online!?!
Al has just traded a bunch of work on a Ford (pinkly)Taurus for the guy's, wife's, old (00)Grand Prix rims-the 17 inch x7 wide with good used tires! It just turns out the she also liked rubbing them against the curb-OUCH! But he says he's going to see how they look (2 are in okay condition)-I still want him to get the American Racing FWD Torque thrusts for it! Make it look like a Modern 442 should!
Whatcha think of our modern interpretation of the 442 ?!?
Modern (Redneck) Hotroddin at it's finest!